2019 NNPHI (National Network of Public Health Institutes) Annual Conference
Washington, DC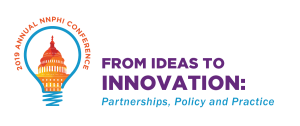 For nearly two decades, the NNPHI Annual Conference has been the only national meeting
supporting and highlighting the critical and innovative work of public health institutes across
the country.
Next year—and for the first time in the history of the conference—we will be in the nation's
capital, which is a perfect backdrop for intersectional conversations on preventing opioid
overdose, connecting behavioral health and public health, advancing healthy aging, building
the skills for the health strategist role among many other innovative topics.
We invite you to join the diverse array of conference participants for the 2019 conference,
which will include representatives from established and emerging public health institutes;
public health training centers; federal, state and local health agencies; national partners and
trade organizations; local, state, and national foundations; and community organizations.
Call for abstracts has closed. Presenters will be notified of acceptance in January 2019.
Urgency, Opportunity, Hope: Designing Opioid Misuse
Prevention 2.0 Strategies
Monday, May 20th, 2019
9:00 AM – 3:00 PM
Washington, D.C.
NNPHI's National Training and Technical Assistance Consortium (NTTCOA) invites you to an
important PreConference Design Lab ahead of the 2019 NNPHI Annual Conference. Come
prepared to roll up your sleeves and strengthen your state or community opioid prevention
strategies.
Access coaching from our NTTCOA team of experts.
Join a community of practice.
Help us create and share knowledge to benefit all communities.
Leaders at the state, tribal and community levels working in preventing opioid misuse are
welcome, For more information on this event, contact Carmelita Marrow at
convenings@nnphi.org
.